Traditional Shake 'N Break Kicks Off
Lake Murray's Boating Season
The Shake 'N Break Cruise/Nautical Yard Sale/Member Appreciation Luncheon was held on Saturday 22 April 2017. It was a beautiful day, although so windy several opted not to cruise. Trust me, however, a few left the docks and found calm anchorages in nearby coves.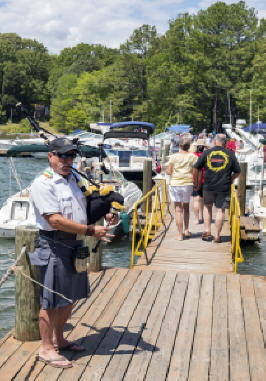 LMPS member Michael Urquhart
donned his kilt and brought his
bagpipes to provide music during
the Blessing of the Fleet.
The day featured a boat trailer maintenance demonstration by WESCO, a safety session on the use of fire extinguishers by P/C J Strohecker, and vessel safety inspections. We even attracted a member from the Lake Hartwell Sail and Power Squadron, who was boating at Lake Murray for the weekend and stopped by Flotilla to have his vessel inspected.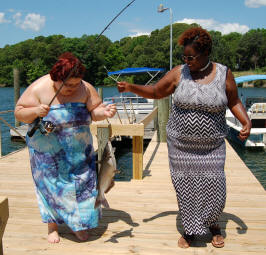 Thakiya St. Cyr (right) brought her
friend Renée Polen out to fish!
More than 80 members, with their families and friends, enjoyed the day, which included some productive fishing from the docks for Thakiya St. Cyr's husband, Mike, and her friend, Renée Polen. Many thanks to all who helped, especially to our cooks, Fred Ruinen and Wayne Cromley; those who prepared and setup our side dishes; and those who cleaned up behind us.
This year's Blessing of the Fleet was performed by The Rev. Gary Phillips of Salem United Methodist Church. His blessing was highlighted with bagpipe music provided by LMPS member Michael Urquhart.
The day's events also included a boat naming ceremony lead by P/R/C David Allen who assisted Thakiya in christening "Meatloaf."
What a terrific way to kick off our boating season on Lake Murray. The weekend started with a "bonding" fire on Friday and six boats stayed the night with their crew. On Saturday, 28 boats and uncounted car/truck loads of folks showed for the day's activities. By Sunday, only Wild Meridian and Donna Marie were left on the docks as rainy weather took over.
Click on the first thumbnail to open the larger images to see our bagpiper in flip flops, Boating Activities Chairman Chuck Clark enjoying his lunch, and a big catfish that was reeled in! Be sure to thank our photographers Joe McElveen and Debra Allen.