St. Augustine, FL ICW Cruise
From Blythe Island Regional Park, Brunswick, GA
to Camachee Cove Yacht Harbor, St. Augustine, FL
8 April to 14 April 2017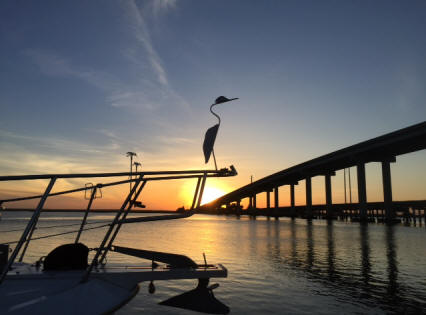 It was Spring Break for most of the schools in Columbia and six boats and 14 people from LMPS were ready to start the seven-day cruise to St. Augustine, FL. But this cruise started some two months earlier when P/C Mike Kirk, AP, P/C David Allen, SN and I took a two-day trip to Georgia and Florida to plan what towns we would visit and where we would stay each night. This was quite a challenge due to several of our usual marinas were severely damaged from Hurricane Matthew. At 3:00 p.m. on day two everything was planned; reservations and rates were made with the marinas and we were heading back to Columbia.
As with most cruises, there is always something that causes a delay and this one was no different. One of LMPS newest members TK Tripathy and his family had a fuel problem with their tow truck. But nothing was going to stop them from going on the cruise. The truck was towed from Lake Wateree to the dealership in Columbia. On Saturday, he learned that the dealership did not have a diesel mechanic on duty. So, the truck was towed to another repair shop, the problem was diagnosed and they found one parts store that had the part. While KT was helping to get his truck repaired, the others had started the five-hour drive to Blythe Island Park. Once the boats were launched, we took a short cruise to Brunswick Landing Marina where we were warmly welcomed by the entire marina staff. After walking through the old town of Brunswick, we decided on where we were going to dine. After supper, we received a call from KT informing us that the truck was repaired and he, Gayle and their two sons would be at the marina by 9:00 a.m. on Sunday. He proved to be a man of his word and caught up with Chuck and Teresa Clark, Charles and Stephanie Heath, Kathy and Danny Glenn, Mike Kirk and Angie Tronco and Diane and Charlie Bruce.
Sunday, Mike took the lead and we cruised 60 miles to Morningstar-Mayport Marina, in Mayport, FL. This was not one of your typical Morningstar marinas, this was more of a commercial marina. Within walking distance from the marina is the Singleton Seafood Shack. "Shack" may have been an overstated description; however, the food was good and everyone enjoyed laughing at KT's stories.
Mike took the lead again on Monday and lead us on a 39-mile cruise to Camachee Cove Yacht Harbor located just north of downtown St. Augustine, FL. Once everyone was in their slips, different groups headed in different directions. For the next two days, we explored every part of downtown St. Augustine and some even had time to visit The Old Fort.
Wednesday, we started our return cruise. Diane and I took the lead for the next 67 miles to the little town of St. Mary's, GA. The waterfront business is mostly owned by the Lang family and so we stayed at Lang's Marina and ate at Lang's Seafood Restaurant. The seafood was good but nothing compared to the River View Restaurant that had the best desserts and pastries that we had ever eaten. Yes, that was the consensus of everyone.
Before departing St. Mary's, most of us piled in two cruisers and ventured over to Cumberland Island. The Island is well known for the wild horses that roam the land. We went to the north end of the island to get a tour of the Carnegie Mansion, but not before watching the horses grazing the marshland on the south end. I could write on and on about the history, but I suggest that you take time and look it up on Google. We left St. Mary's after refueling with the feeling that we would miss this little town that's history goes back to the 1700s.
Chuck lead the next 28-mile leg to Jekyll Harbor Marina. This is a small quiet marina located right on the ICW with a newly renovated restaurant. We checked in with Zachary's Riverhouse Restaurant only to learn that if we wanted to eat there we needed to make reservations before 6:00 pm. We did and before we finished eating, the entire restaurant was completely filled. It was a nice way to end our cruise.
On Friday, we departed the marina and headed back to the Blythe Island Park where we loaded our cruisers and headed home.
Until next year's spring break.
P/C Charlie Bruce SN-CN