LMPS Remembers 2017 with Awards
During a Holiday Celebration
by P/C Debra Allen, AP
Lake Murray Power Squadron members, old and new alike, donned their gay apparel and came out to celebrate the holiday season with good food, fellowship and the desire to thank those who made 2017 special. It was exciting to see so many new faces mingled with us "old timers" as Cdr RJ Becht welcomed 67 members and their guests to our annual Christmas Party at Saluda Shoals on Saturday 16 December 2017. The evening featured presentation of the squadron's annual awards, outstanding door prizes, a delicious dinner and time with good friends talking about boating and creating those important "moments" ─ Cdr Becht's theme this year.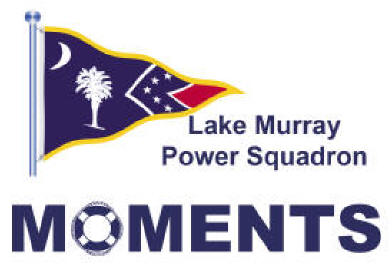 During the cocktail hour, a slideshow of the many activities and events our members enjoyed during 2017 played in the background. A special highlight of the evening was a second slide show presented by P/R/C David Allen, JN. David offered an entertaining look back on a year highlighted by a total eclipse of the sun visible from Lake Murray and installation of a new ramp at Flotilla Island - our home on the lake.
The evening's big event, however, was the awards presentation. The first award presented was the Spark Plug Award, which is given to a new member of two years or less who started their squadron career with a real spark.
P/C Janice Ayers said, "This award recipient isn't a spark, or a bonfire, but a full blown, out of control forest fire. In March of 2016, I was helping at the ABC Public Boating Course. I noticed a lady there who seemed to be very focused, studious, determined to learn about boating. Although she doesn't currently own a boat, she asked some very intelligent and insightful questions. I could tell from the beginning she was spirited, a hard worker, a successful business woman and someone who would go above and beyond for a volunteer group such as ours. I even remember she wore a Virginia Cavaliers stocking hat. This special lady went on to be railroaded, I mean willingly volunteered, to be on the Bridge as our trustworthy treasurer after only being in the squadron six months. She has done an excellent job paying our bills on time and keeping flawless records."
With that introduction, P/C Ayers called Angela Cooper-Robinson to forward and presented her the Spark Plug Award.
Next up was the Commander's Award, which is solely determined by the commander and offers an opportunity to recognize someone who has been an asset in making Lake Murray a better squadron. P/C Ayers announced "I had two people who were invaluable to me during my watch year. So, I wanted two names on that plaque so that's what happened."
First, she described: "One of my recipients sat me down at a dinner meeting late last year and said he would support me in any capacity if I would assume the role of commander. He told me I deserved it and had earned it. Prior to that, I had my doubts about doing a good job for the squadron. Mike Kirk hung up his past commander title and took minutes as secretary all year long. He got to Bridge meetings early to smoke a cigar, I mean set up tables and turn on air or heat. He participated in cruises, helped with lots of events, built us some great benches around the island bonfire and once again worked hard to pull off our Thornwell Children's Day. He was very influential in LMPS receiving a grant of $1,200 from Golden State Foods. He was able to add historical knowledge to our meetings, knows the rules and by-laws and always has a story to tell with a twinkle in his eye," she said, inviting his forward to receive the award.
"The other recipient I could not leave out never told me no and was up for anything. He would make it happen with gusto and enthusiasm. Whether it was the Boat Show, putting up a tent at the Chapin Farmers Market event or launching a whole new Wine & Dine event, he was on it. He has brought in several new members this year and there's more coming in. He showed out so much, he is now Commander," P/C Ayers said, congratulating both recipients of the 2017 Commander's Award.
The squadron's most prestigious service award ─ the Golden Anchor Award ─ was then presented. This award is presented annually to a squadron member "for distinguished and unselfish service to the squadron with outstanding leadership, vision and ability." P/C Ayers noted the one restriction, the recipient couldn't be a member of the Bridge.

Her bewilderment on who to choose turned into a "duh" moment, as she wondered why she was slow to identify this recipient "whose name should have been on this plaque a long time ago. For 13 years now, he has devoted a lot of time to a cause he believes in ─ making Lake Murray a safer place to boat. He has taught numerous boating courses, including poring over sight folders and volunteering his patient instructor talent at Ladies Day on the Lake for the Lake Murray Association; entered many a merit mark in the system; has cooked thousands of pounds of oysters and shrimp for fellow boaters; served as our voice in the Lake Murray Safety Consortium; helped with Mardi Gras events; was a mentor to me and others as commander and deserves more recognition than what a plaque could ever convey. Aside from being highly biased, I sincerely believe he is very worthy of this prestigious Golden Anchor award," P/C Ayers said as she called P/C Lee Ayers to come forward as the 29th recipient of the award.
Past Rusty Anchor Recipient Chuck Clark, who was unable to attend the Christmas Party and asked P/C Ayer to present the 2017 Rusty Anchor Award for an "unscheduled, unplanned, full immersion" in the water. The 2017 recipient is David Allen, who fell off the dock at Flotilla in mid-July while assisting new boater and LMPS member Kia St. Cyr dock Meatloaf at Flotilla Island under the watchful eyes of 30 squadron members waiting to depart on a small boat cruise up the Saluda River.
Finally, it was time for the Lake Murray's infamous Bent Prop Award, presented annually to the member who inflicts in a most spectacular fashion the most damage to his or her vessel or the vessel and/or property of others.
P/C Ayers noted several nominees. It seems Deree Stobaugh admitted to injuring her trailer and scraping the tritoon a little. Then there was Kia St. Cyr's issues on the Saluda River trip. And, RJ Becht limped into a marina in Charleston after encountering a crab trap, which was after Chuck Clark saved RJ by installing an impeller before the cruise got underway. And yet another nominee, Charlie Bruce attempted to take out the bollards on a ramp at Emerald Isle Marina. "My goodness, we've had some good candidates. Yet, there is one more. This one needs to come to the front," she said, asking P/C Mike Kirk to once again come forward. She told the tale of him grounding Stella during the Beaufort, NC, Cruise and having to be rescued by a local resident in a center console. Stella was towed to the rescuer's dock where a red laminated wire crab pot was found entangled in both props.
Captain Mike who had called Tow BoatUS and learned they couldn't get there for an hour, explained to them he really didn't need a tow, just some heavy-duty wire cutters. The tow service could not comply with his request. The local rescuer, a retired surgeon, managed to dig up some old rusty wire cutters. With lots of supervision and Stella tied up at the local's dock, Captain Mike worked for about two hours through many bloody fingers and knuckles and sinking into the pluff mud. Eventually the props were freed of the crab pot entanglement and the engine fired easily. But wait, the throttle would not engage to maneuver the boat. Back under the engine hatch, Captain Mike discovered that the shift cable had snapped while attempting to throttle with a crab pot wrapped around the props. The throttle cable was reattached with nylon ties and the boat could finally get underway.
With that tale, P/C Ayers presented P/C Kirk the 2017 Bent Prop Award, noting he had learned a valuable lesson. NO captain's tool box is complete for coastal cruising without wire cutters. To celebrate the new-found knowledge, a crab trap ornament and miniature wire cutters accompanied this year's Bent Prop Award.

After the fun of hearing about the 2017 Bent Prop Award incident, P/C Ayers and Cdr Becht recognized the following members for meritorious service:
Ginny Swartzmiller for her work as Chair of the Phone Committee

Joe McElveen for his photography work

Holly and Dan Drake for their work maintaining Flotilla Island

Rick Stobaugh for his work as squadron chaplain

Debra Allen for her work as webmaster

Lee Ayers for his work on the 2017 Oyster Roast

Charlie Bruce for his work identifying a company to install a new ramp at Flotilla

Deb and Jack Kessler for their work with the Ship's Store

Jeff and Cyndi Langlois for their work coordinating special events

Debbie Becht for her work as Chair of the Vessel Safety Check efforts

David Allen for his work coordinating the Eclipse Weekend event

Donna Dodson for her work as email coordinator

Fred Ruinen for his work coordinating the Dam Swim for Drew

Mike Kirk for his work with the Thornwell Children's Day on the Lake

Kes and Jay Crumpler for their work coordinating October Fest

Danny and Kathy Glenn for their work with the squadron's charity outreach

Kelly Lewis as the member with the most vessel safety inspections

Janice Ayers for her leadership as commander.
Finally, Cdr Becht recognized Howard Pendley and P/C Jerry Wise as having achieved Senior Navigator status, noting their names would be added to the plaque listing all members who had achieved this educational milestone.
Wishing everyone a wonderful holiday season and happy new year, Cdr Becht invited all to come out and create new Lake Murray Power Squadron Moments during 2018.
Click on the first thumbnail below to open a slide show of the evening's festivities.