Lake Murray Celebrates Oktoberfest
and Elects Leadership for 2019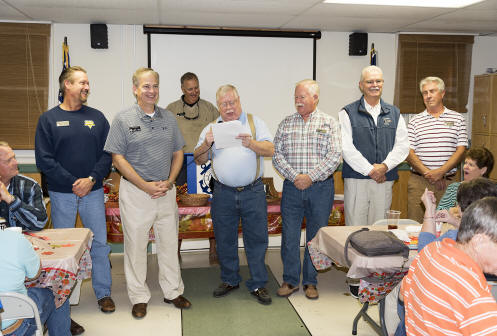 Lake Murray Power Squadron packed the house for Oktoberfest and the election of its new bridge officers on 18 October 2018. There was no question of a quorum as 60 were in attendance, including two new members who were sworn in during the evening's festivities.
Cdr R.J. Becht asked P/C Jim Rakes to present the slate of nominees. Jim called forward those nominated who were in attendance, which included (shown in the photo, left to right) Wayne Corley as assistant treasurer, Fred Ruinen as commander, Charlie Bruce as a member-at-large, Howard Pendley as education officer and Ed Garbe as a member-at-large.
Newly elected Member-at-Large Ed Garbe was in charge of Oktoberfest and even had some fun auction items to enjoy along with mini kegs and German wine. Members enjoyed a beautiful sunset by the lakeside and the weather cooled enough for the commander to try out the new zero clearance firepit on the deck.
For those who were unable to attend the annual meeting, the deadline has been extended until the Change of Watch on Friday 2 November for collection of the Operation Christmas Child Boxes. If anyone needs more boxes, please contact LMPS member Pam Burtis, the OCC Drop-Off Team Leader at 803-530-3619 or ppburtis@yahoo.com. If you have filled a shoebox but are unable to attend the 2 November meeting or if you have any questions, please contact Pam. Thank you for supporting just one of the many great causes LMPS is a part of!
Also remember Kathy and Danny Glenn are collecting can goods on behalf of the squadron to donate to Mission Lexington. We're short of our goal for supporting this local organization, so please remember to bring your items to the Change of Watch and let's fill Danny's truck with food for those less fortunate than ourselves.
Listed below is the full slate of members who were elected to a specific office for the 2019 watch year. Come celebrate with them as they are sworn in during our Change of Watch ceremony on 2 November 2018 at the River Center at Saluda Shoals Park. Dinner is $20 per person and the event begins with a reception at 6:30 p.m. Dress is business casual (sport coat/tie optional).
2018-2019 Bridge Officers
and Elected Committee Members

BRIDGE OFFICERS

Commander – Lt/C Fred Ruinen, JN

Executive Officer – Rick Agar

Education Officer – 1st Lt Howard Pendley, SN

Assistant Education Officer – OPEN

Administrative Officer – Lt/C Christine Royson, S

Secretary – Betsy Agar

Treasurer – Mel Charles

Assistant Treasurer – Lt Wayne Cromley

MEMBERS-AT-LARGE

P/C Charlie Bruce, SN-CN

Ed Garbe

Jer Smith

NOMINATING COMMITTEE

P/C Jerry Wise, SN (2019)

OPEN (2020)

Cdr R.J. Becht (2021)

AUDIT COMMITTEE

P/C Elaine Price, SN (2019)

Darlene Clawson (2020)

OPEN (2021)

RULES COMMITTEE

P/C Charlie Bruce, SN-CN (2019)

P/C Stan Godfrey, JN (2020)

P/C J. Strohecker, JN (2021)

Click on the thumbnails below to open a slide show
of scenes from our annual meeting/Oktoberfest: