Lake Murray Power Squadron to Host
Eclipse Weekend of Floating Fun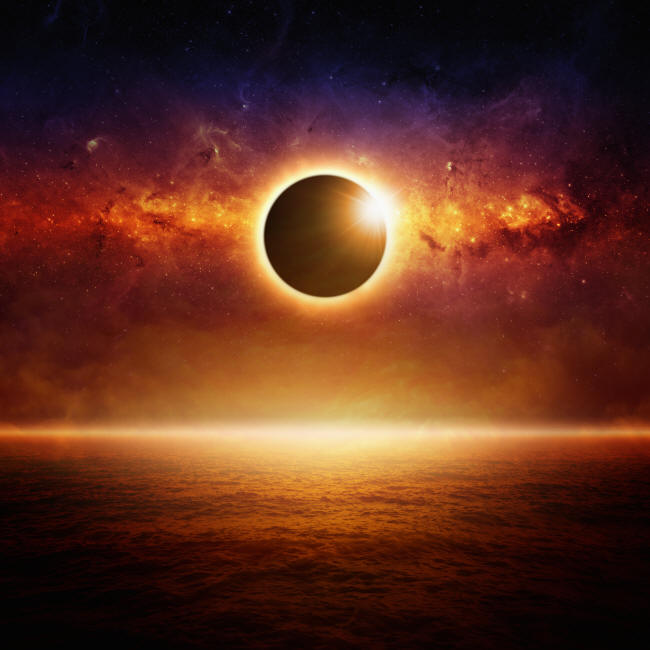 The weekend of the Great Eclipse of 2017 is nearly upon us and Lake Murray Power Squadron plans to celebrate this rare event in classic style. It won't be but a couple minutes of darkness, but it'll be a long weekend of fun on the water and fellowship with our boating brethren.
The entire weekend Lake Murray will be hosting eight boats and 40 members from the Atlanta Sail and Power Squadron who are joining us for an entire weekend of festivities at Flotilla Island.
The weekend begins with our Flotilla Friday gathering. The grills will be out, so bring something to throw on the fire, a side dish to share or pick up some take out and join the merriment.
The next day, Saturday 19 August is our second Log Jam of the summer. We'll assemble and raft up in No Name Cove about 1100 for a day of beverage bobbing, swimming and fun with our Atlanta compatriots. That evening at 1900 we'll have a catered BBQ at the island with our guests. Bring your own beverage and $15 per person (kids half price) and join us. At about 2100 (or whenever it gets dark enough), P/C Jerry Wise, SN will present his extraordinary "View of the Heavens" with a special emphasis on the eclipse phenomena. Jerry is a highly accomplished amateur astronomer and astrophotographer with a great storytelling ability.
Sunday morning at about 1030, P/R/C David Allen, SN will give our Georgia guests a tour of Lake Murray. We'll do a swing by the dam and work our way up the lake, taking in the sights we're accustomed to, but our guests are not. Once we get up the lake, we'll raft up for lunch, bobbing, swimming and fellowship. When we have had enough fun, it'll be back to the Island for a Low Country Boil prepared by our resident Cajun Master Chef, P/C Jeff Langlois, P at about 1830. The cost will be between $10-15 per person (depending on the cost of shrimp- kids half price) – just bring your beverages. We'll do a reprise of Jerry's presentation at 2100 if necessary, and then adjourn the party to the docks. Rumor has it there may be some singing and guitar playing.
Monday is The Big Day. Come on out and join us that afternoon as the Midlands goes dark at 2:41 for a few seconds. Flotilla Island has an unobstructed view of the Sun and from there we'll get to see some of the strange things that occur when this rare event happens. Commander Janice Ayers has procured, through Mid-Carolina Electric Cooperative, eclipse glasses for those who don't have any. We'll be ordering pizza to feed our visitors, and for $5 you can join in – just let us know.
The meals outlined above will be catered, so please respond to the event email you receive or contact P/R/C David Allen, SN at dallenjr@sc.rr.com or by text at 803. 730.1421 by Sunday 13 August with your plans to participate at any or all of the meals functions. Also, please let us know which night you'd like to see Jerry Wise's presentation. Your reply is important – help us plan the use of our limited space to better accommodate our membership and our out-of-state guests.
Come on out for the Lake Murray Power Squadron Eclipse Weekend of Floating Fun!