Annual Shake 'N Break Kicks Off
Lake Murray's Boating Season
The Shake 'N Break Cruise/Member Appreciation Luncheon was held Saturday 14 April 2018. It was a beautiful day, although a little windy. The season actually kicked off the evening before with Flotilla Friday as folks gathered on the dock to share a meal before firing up a bonfire and ending the evening with s'mores!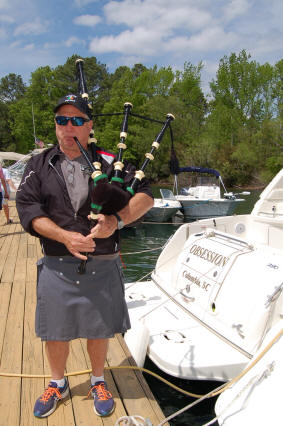 LMPS member Michael Urquhart donned his
kilt and brought his bagpipes to provide music
during the Blessing of the Fleet.
Saturday featured a presentation and boat tour provided by the International Diving Institute, along with vessel safety inspections offered by our own certified inspectors. Thanks to LMPS member David Dunn for arranging this terrific program. The International Diving Institute, which trains commercial divers, is based in Charleston and expanded its dive training operation to Lake Murray in May 2017.
Day-long events also included swearing in a new member and enjoying a delicious lunch before starting the Blessing of the Fleet Ceremony -- oops, almost forgot to mention being able to perform rescue tows for two members who really needed Saturday's blessing. Finally, we did enjoy that first cruise of the season by cruising to Piglet Inlet for a raft-up where a couple of folks actually got in the water!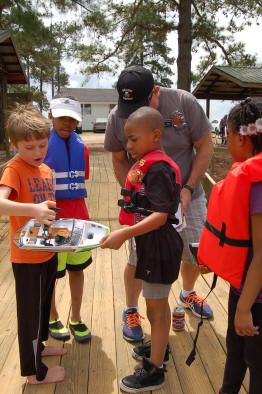 Debating as to whether the smallest boat
at the Shake 'N Break could be counted.
More than 90 members, with their families and friends, enjoyed the day. Many thanks to all who helped, especially to our cooks, Fred Ruinen and Wayne Cromley; those who prepared and setup our side dishes; and those who cleaned up behind us.
We had 23 boats at the dock for this year's Blessing of the Fleet, which was performed by Layne Waters, a Sub-Deacon at The Episcopal Church of the Good Shepherd, with the assistance of his good friend and LMPS member Tommy Clawson. His blessing was highlighted with bagpipe music provided by LMPS member Michael Urquhart.
Click on the first thumbnail to open a slide show of our annual Shake 'N Break. Be sure to thank our photographers Joe McElveen and Debra Allen; and check out this link on our Facebook page for a video of the event by Executive Officer/Hamburger Chef Fred Ruinen.