Our Mission
As a fraternal, non-profit boating organization serving central South Carolina, our three-part mission includes the promotion of boating safety through education, civic service and the enjoyment of boating activities and social functions among our membership.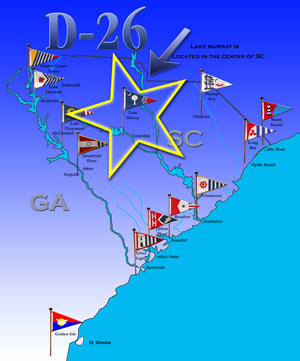 The Lake Murray Power Squadron is one of more than 350 squadrons in the United States Power Squadrons. We are one of 14 squadrons in District 26, which includes South Carolina and a portion of Georgia. Our squadron was chartered on 11 November 1963 as Congaree Power Squadron in Columbia, S.C. As you can see, we are located in the center of the state. The name was changed in 1994.
Dedicated to the promotion of boating safety through education, we teach a boating course to the general public in the spring and fall. The course is taught by knowledgeable members who have a love of boating, both sail and power.
Lake Murray Power Squadron gives back to its community through a variety of civic service activities. Among the most notable is the maintenance of Lake Murray's system of reference lights.
Our members enjoy many social functions where we build friendships with people of all ages and walks of life. At our home on Lake Murray, Flotilla Island, we conduct advanced boating classes for our members and hold social events including pig roasts, holiday celebrations, and numerous boating activities. The combination of fun with educational opportunities and a chance to serve the community have contributed to the success and growth of our squadron.