22nd Annual Dam Swim for Drew
LMPS members have been long-time supporters of the Annual Dam Swim for Drew -- coming out each year to use their boats as a safety barrier for participating swimmers. Due to COVID-19, this year's swim will be a virtual event. Since you and your boat will not be required, you may want to volunteer to swim in a pool or make a monetary donation to help support the cause.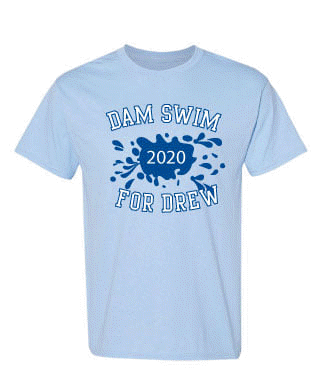 You can even purchase the 2020 Dam Swim for Drew t-shirt by submitting this form by Friday 18 September. A short-sleeve Hanes 50/50 t-shirt is $15 or a long-sleeve t-shirt is $20 (additional cost for 2XL – 4XL).
If you want to participate in the Voluntary Swim for Drew, sign up at https://www.strictlyrunning.com/Dam.asp. You also can use this link to register for the voluntary swim for Drew: 2-Mile Swim Time for Drew - September 2020. Donations of $40 or more will provide a swimmer a short sleeve t-shirt and swim bag tag. All swimmers can participate with a minimum donation of $25 but will not receive a shirt or tag. Any donation received after 18 September at 10 p.m. on the Strictly Running site, cannot be guaranteed a shirt and tag. The site closes on 30 September for donations.
The Lake Murray Dam Swim has become a yearly event to honor the life and death of Drew Smith and to celebrate the difference this little boy has made to boating safety in South Carolina. Because of Drew, South Carolina now enforces the Boating Safety and Reform Act of 1999, known as Drew's Law. This legislation raised the penalties for boating violations to equal that of similar highway violations, most notably that of death resulting from BUI (Boating Under the Influence). Since Drew's law went into effect, boating fatalities statewide have dropped. The purpose of this event is to promote water and boating safety and to finance an indoor swimming facility in memory of Drew Smith in Lexington, S.C.