Lake Murray Power Squadron
Welcomes New Leadership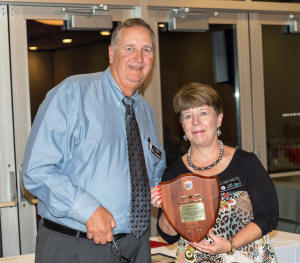 Cdr Janice Ayers opened her farewell remarks at the 3 November 2017 Change of Watch by noting, "The watch year of your third vertically challenged female commander has come back to the dock to exchange leaders. I told you at Change of Watch last year that 'anchors aweigh' means that the anchors are clear of the bottom and therefore the boat can be underway. We've been free and clear for a year to experience the cruise or as David Allen says the next trip around the sun. And did we ever make it happen through no breezes, howling winds, calm seas and stormy seas but always found a safe haven in the company of friends."
Prior to D/Lt/C Jim Wilkins swearing in Lake Murray's new commander and his bridge officers, now Past Commander Ayers recalled the many activities that the squadron experienced during 2017.
The squadron's new community outreach for the year was helping the Lexington Interfaith Community Services. The squadron promoted itself and the benefits of membership at Columbia's annual Boat Show and the Chapin Farmer's Market. Members taught two boating safety classes to the public this year, along with a boating safety class for Ladies Day on the Lake at the request of the Lake Murray Association.
In addition, the squadron hosted various events every month of the year for its membership. Highlights included the squadron's infamous Mardi Gras celebration in February and an oyster roast featuring 480 pounds of oysters and 80 pounds of shrimp during March. April featured the annual Shake 'N Break cruise with Nautical Yard Sale and a Member Appreciation Luncheon with boat trailer maintenance demonstration, fire extinguisher usage education, numerous VSC's and a very meaningful Blessing of the Fleet. A Wine & Dine event was added this year and its success will likely make it an annual affair. July featured a Pig Pickin' -- just like old times -- and Oktoberfest saw some good German food and craft beer. Regular dinner meetings were highlighted by speakers such as Officer Rhett Bickley, a recovery diver with S.C. Department of Natural Resources, and a fantastic program by the LMPS Sea Scouts about their sailing adventure to Cuba.
One of the highlights of 2017 was the visit from the Atlanta Sail & Power Squadron, she said, noting that based on the thank you notes received, "we rocked hosting them for the Eclipse Weekend." Precious thank you cards were received by the squadron for hosting its annual Thornwell Children's Day in July, while the Dam Swim for Drew was another wonderful community outreach by the squadron.
And, still that was not all. "Cruises from Beaufort, N.C., to the Shrimp Festival in Beaufort, S.C., and tall ships in Charleston to wooden boats in Georgetown, we kept the waters stirred up with activity along with reference light checks and several small boat cruises. Social times were alive and well during several Flotilla Fridays and our two annual Log Jams at No Name Cove on Lake Murray," P/C Ayers recalled.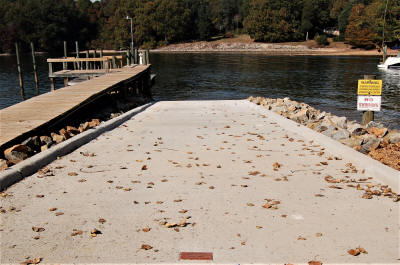 While USPS capped it year by becoming America's Boating Club, P/C Ayers cited Lake Murray's biggest accomplishment of the year as the fundraising for and actual installation of a new launch ramp at Flotilla Island.
In conclusion she said, "We captured every angle of the USPS triangle which are education, fraternal and civic service. What a year! I told you 'A ship is always safe at the shore – but that is NOT what it is built for.' We fired up the blowers, left the shore and got things done. Some members were on board the whole year. Some fell overboard. Some broke down and had to be towed back. But, all in all, we made some accomplishment that I'm deeply proud of and appreciate the support and guidance I've received this year. Please give R.J. all that you have to make his year a success."
As P/C Ayers thanked everyone for the opportunity to be at the helm of LMPS this past watch year, giving special thanks to her husband Lee Ayers.
D/Lt/C Jim Wilkins, AP was on hand to welcome Lake Murray's new bridge onboard and to give the oath of office. Before beginning the formalities, he noted his appreciation at being invited and congratulated the squadron on its turnout for the Change of Watch, stating it was the largest squadron in District 26 and D/26 looked forward to Lake Murray hosting its spring conference.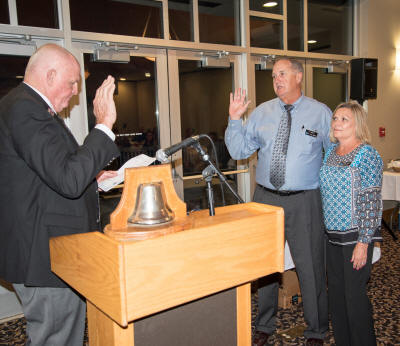 He said he wanted to create the kind of joint activities within District 26 that Lake Murray had successfully accomplished this past year with the Atlanta Sail and Power Squadron, announcing that P/C Bert Baxter of Lake Hartwell had agreed to take on this challenge as the D/26 Boating Activities Chairman. Many Lake Murray members will recall that Bert's father, Bill Baxter, was a past commander of Lake Murray and past district commander of District 26. Bert's mother, Liz Baxter, remains a member of Lake Murray.
With his wife Debbie at his side, R.J. Becht was sworn in as commander of Lake Murray Power Squadron, with 66 members and guests in attendance.
He encouraged everyone to reflect on the moments that had brought them to Lake Murray Power Squadron, to think of the wonderful moments they've experienced as members of Lake Murray and look forward to creating new moments to share with new boating friends. He challenged Lake Murray to continue its growth by having each member bring in a new member and show them what LMPS is about. He then called to order the first meeting of his executive committee to appoint Christine Royson to fill the vacant position of secretary.
Cdr Becht concluded his remarks by presenting P/C Ayers a plaque thanking her for her service to Lake Murray. He announced the dedication of the new launch ramp at Flotilla would be held on Saturday 4 November and invited everyone to remain for a champagne toast. Click on the first thumbnail below for a slideshow of our celebration of the watch year concluded and the new one that has begun!