Lake Murray Celebrates Mardi Gras
Mardis Gras 2016 was celebrated in true Lake Murray style as 48 paid attendees, plus a few curious onlookers, turned out Saturday 6 February for our first every LMPS Petite Mardi Gras Parade and some good Cajun cooking.
While P/C Lee Ayers and P/C Jeff Langlois cooked pots of jambalaya, white beans and shrimp Creole, and Cyndi Langlois worked to ready the side dishes and the King Cake, six parade entries received the finishing touches to their decorations and lined up for the festivities.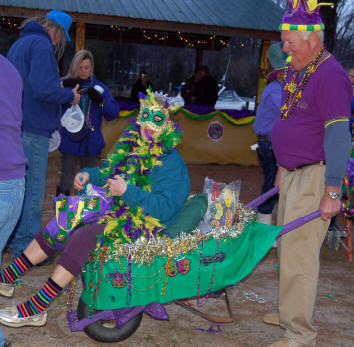 There was Bryant Blakeslee and his lovely krewe member; Mike Kirk pushing the unrecognizable Angie bedecked in Mardi Gras colors and throwing treasures from her perch within her wheeled parade float (voted Cajun Wanna Be Float); and there was the four-wheeler Langlois entry driven by Christopher, with sister Kristi throwing beads.
The Creole Crumplers hitched up their doggies, Lady Love and Funky Faith, hopped on their four-wheeler all wearing handmade outfits, and tossed out Jay's General goodies to the encroaching spectators (voted Most Creative Float).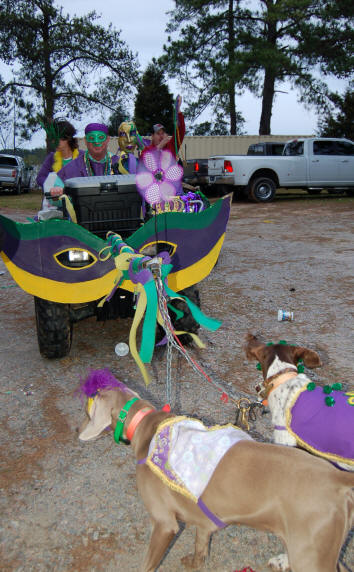 Then there was "Krewe de Libation" throwing beads, cups and the infamous libations – Jell-O Shooters! Since the ladies, Edie Godfrey and Donna Dodson were more interested in making and providing the infamous libations for the parade; P/C Tony Dodson came aboard to design and build the purple, green and gold float featuring side banners and stylized mask.
But for the true spirit of fun that went into creating a parade entry, read the following account from Lt/C Janice Ayers.
My float inspiration came from my office. The mail cart at work looked suspiciously like a chassis for my entry into the LMPS Petite Mardi Gras Parade. I sought permission to use it, asked our custodian to help me load it in my car (he looked at me kinda funny and just shook his head, somewhat like Lee does a lot) and off it went to my house to be stuffed with purple, green and gold tissue paper and adorned with colorful beads. A phone call to my grandson nabbed the huge tiger that rode in my "float." Dylan had impressively won that tiger at the State Fair and it was the perfect addition for two reasons -- we are Clemson Tiger fans, and the tigers are also a big deal in Louisiana. The tiger was suitably "dressed" in a Mardi Gras fashionable hat, necklace, bracelet, pocketbook, and, of course, a beverage cup in paw.
My two trips to the real Mardi Gras (courtesy of my Langlois Cajun friends from Thibodeaux, LA) netted me quite the array of beads, hats, masks, and purple, green and gold stuffed animals. Ribbon contributions from Cyndi and after Mardi Gras sale items from Rouses (a New Orleans must-go-to grocery store) were no brainers for decorations. Oriental Trading (an on-line novelty shop) completed my float entry by providing me "throws" of Mardi Gras miniature alligators, packaged candy, doubloons (enviable catches at the real New Orleans parades), yellow duckies and jester hand clappers.
There were two things that I didn't anticipate. The first thing was "How do I get my decorated float to Flotilla without mushing my carefully placed tissue paper?" My friend, Angie, suggested I call 911 for a transport, but I don't think they would have found that funny. Unfortunately my lack of planning didn't constitute an emergency on anyone's part, especially Lee since he was concentrating, rightly so, on his meal contribution of jambalaya and white beans. I couldn't put it in an open truck because the route to Flotilla would have been littered with tissue paper and I'm sure the wind would have destroyed my tiger's designer attire.
I thought I was going to have to push my entry the six miles to Flotilla when our daughter, Jennifer, unexpectedly dropped by Saturday afternoon and saved the day by helping me carefully load my creation in my own SUV solving my dilemma. She had practice from working seasonal employment at UPS loading and unloading packages from airplanes! The competition, Donna Dodson, helped me unload my masterpiece at the island and I returned the favor by helping her stencil her float signage. Upon arrival at Flotilla, I was mercilessly teased by a nameless LMPS member (initials Bryant Blakeslee) of stealing the cart from a homeless person and by Cyndi who said I resembled a bag lady! Nonetheless, unscathed from the good natured ribbing, I pushed onward to the parade line-up decked out in my fleur–de–lis glasses, flashing crown, "A" beads (the best catches) and purple, green, and gold apparel.
The second thing I didn't anticipate in this ordeal was how hard it would be to simultaneously push my cart, throw my goodies and keep from getting run over by the Crumplers and their canine krewe of Lady and Faith. Somehow, I ended up with more beads than I took over to the island to try to get rid of AND a cheap plastic raincoat from the impressive Crumpler "throws" also fondly known as sales samples from "Jay's General."
The competition was beyond my wildest expectation and my entry was shadowed by some truly creative friends. I would be remiss if I didn't thank Sarah and David (Pacifi-her's grandchildren) for helping me "undecorate" my "float" to carry it back to where it belonged. In return, I gave Sarah the tiger's bracelet that she had eyed before the parade and I gave David a coveted alligator stuffed animal. AND, not to be forgotten, this whole parade idea was the brainchild of my husband! I was the one shaking my head when he mentioned it, but it was a rousing success and fun for all (I hope!).
Did you notice the ladders on our little parade route that I decorated? This is what they do in Louisiana to save their desired parade viewing spot! We learned pretty quickly that the place to be during a New Orleans parade is underneath those with ladders to catch what was missed by the ladder occupant!
The mail cart is now back to its boring job of transporting what it's really made for! By the way, I think Dylan's tiger is coming to live at our house . . . it just seems appropriate to be in the bedroom when he and his brother visit Nana and Paw Paw!
LMPS did "let the good times roll!" Click the thumbnails below to see what fun you missed!