Lake Murray Celebrates Mardi Gras
S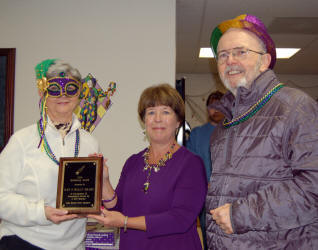 aturday 18 February was a beautiful warm, overcast day until time for Lake Murray Power Squadron's Mardis Gras 2017 celebration. By 3 p.m. the wind picked up and the rain was not far behind. Despite the reminder that it was still winter, 43 participants arrived to enjoy some truly good Cajun cooking. We even had one couple come by boat and another towed a boat out to Flotilla, but opted to leave it on the trailer when the rain arrived. To help brave the weather, wood was chopped and a bonfire started.
While P/C Lee Ayers prepared a huge pot of jambalaya, P/C Jeff and Cyndi Langlois cooked the shrimp Creole. In addition to side dishes of cole slaw and green beans, there was King Cake from New Orleans. Leftovers were sold, with the $135 in proceeds going to our RAMP IT UP fund to rebuild the ramp at Flotilla. Our total ramp fund now stands at $2,365.50.
During the business portion of our gathering, Cdr Janice Ayers presented Holly and Dan Drake with the 2016 Spark Plug Award. Click on the first thumbnail below to open a series of photos from our 2017 Mardis Gras Celebration, which ended with a beautiful sunset.