Creating 2020 Boating Memories:
Traditional Oyster Roast, New Member, Social Distancing Events
As Lt/C Betsy Agar said in a newsletter article, 2020, after getting off to a great start with the Super Bowl Party, Oyster Roast, and Cloud's Creek luncheon, has been a challenge, socially.
Lake Murray froze all social event planning due to a spike in the virus cases, and the governor's orders. That meant missing Shake 'N Break and the Pig Picking on July 4th. People have still been able to gather informally to use Flotilla Island for small cookouts and Flotilla Friday gatherings, with some precautions. Since the Thornwell Children's Day set for 18 July had to be cancelled, it was replaced with a cruise to Buffalo Creek for lunch, followed by a raftup to swim.
Cruising and swimming have been our most successful ways of socializing with minimal risk, since they make social distancing fairly easy to maintain, and gatherings outdoors with plenty of ventilation and washing are less conducive to viral spread.
Despite the challenges presented to our standard operations this year, the squadron has accomplished much. We've worked on maintaining our facility at Flotilla Island, including work to on the docks and a deck addition. And, we've continued to bring in new members, with Cdr Rick holding swearing in ceremonies whenever the chance presented itself.
Deck Addition
In the event you haven't been out to Flotilla Island during the pandemic, the Bridge authorized an addition to the back of the building. This was clearly necessary due to the continued growth of our membership. Grabbing the ball, Mike Zafoot, Mike Charles, and Ed Garbe over a two-month period extended the porch by 15 feet on either side, put in new handrails (now up to code) and added a metal roof that covers 2/3rds of the porch.
New Members
Cdr Rick reports that Despite COVID-19 and while maintaining social distancing, we had a swearing in ceremony after our Island Cleanup on 8 August with new members who showed up to help. Although it was just the guys who showed up, we did pass out membership pins to: Jonathan and Jessica Berry, Jack and Rita Broughton, and Lewis and Sue Williams. Thanks to the new members for helping out and to all the long-time members for participating in the swearing in.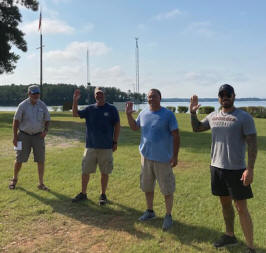 During the Labor Day holiday weekend, Cdr Rick swore in Scott and Eva O'Brian after an informal pancake brunch prepared by P/C Fred Ruinen. Thanks to Harbor Master Chris Zolnowski and Administrative Officer Betsy Agar for the photos. And, Patrick Finstead and Holly Snell were sworn in at a raft-up in Piglet Cove (but our drone photographer was not available for photo coverage).
Unfortunately, we've been unable to capture the swearing in of all the new members who have joined America's Boating Club of Lake Murray since the beginning of our bridge year. So, in addition to those pictured, please welcome the following if you see them while social distancing at the lake: David & Cindy King, Wesley Muller, Kelly Turner, Betsy & Mark Harvey, Betty Bussert, John & Anna Klein, Ritch & Christi McManus with Danielle & Bethany, Steve Hinrichs, Jay & Elizabeth Marks, Tim & Tina Austin, Mike & Jennifer Adkins. And, welcome back to Joe Halford, John & Sandy Hutto, Barbara & Festus Burchfield.
To check out scenes from a couple of our early events, click on the thumbnail at the beginning of each of the following groups of photos.