Lake Murray Members Attend
USPS Annual Meeting and District 26 Spring Conference
The United States Power Squadrons annual meeting was held 14-21 February 2016 in Orlando, while the District 26 Spring Conference was hosted 4-6 March 2016 by the Hilton Head Sail and Power Squadron.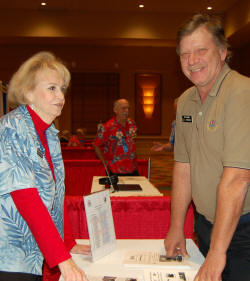 At the national meeting, Lake Murray Power Squadron was represented by R/C David Allen, SN; R/C Eric Pearson, SN-CN; Stf/C Barbara Pearson, AP; D/C Andy Hyman, SN-ACN, Lt Debra Allen, AP; and Marilyn Hyman, AP.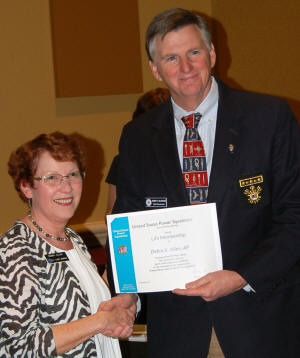 Debra was recognized at national with Life Membership for 25 consecutive years of service to USPS. She is pictured here with P/C/C Robert Baldridge. Stf/C Barbara is pictured at the USPS Communications Committee Booth in the Exhibit Hall at the annual meeting in Orlando. Shown with her is the Area Monitor who reviews Lake Murray's newsletter, P/D/C Eric Schmidt, JN.
At the district meeting, D/C Andy and Marilyn were in attendance, along with R/C's David and Eric, as well as Cdr Jerry Wise, SN; Lt/C Janice Ayers, AP; Lt/C Tony Dodson, SN-IN; and D/Lt Braxton Sorg, AP.
Once again Lake Murray came away with the D/26 Division 1, First Place Boating Activities Award. Unfortunately, not hard to do since LMPS is in a category by itself (Note to squadron members: The Hilton Head Sail and Power Squadron has grown its membership to compete with us in the Division 1 category for the 2016 watch year). Among other LMPS recognitions were the 2015 Distinctive Communicator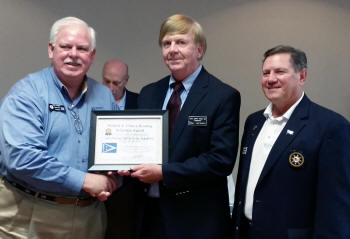 Awards for both the squadron's newsletter and website. The squadron also was recognized for its 34th consecutive year of 100% member participation in the USPS Education Fund. Pictured to the right is Andy presenting Jerry the D/26 Division 1 Boating Activities Award for 2015. Shown with them is D/26 Boating Activities Chairman Doug Chalifour, AP.
Everyone in attendance at the spring conference was reminded about the upcoming D/26 Cruise and Rendezvous that will held 3-5 June 2016 in Beaufort. Click here for detailed Cruise & Rendezvous information and here for your Registration Form. Check out the Beaufort Sail and Power Squadron website for more information. Also, check with Lake Murray Boating Activities Chairman Chuck Clark for details about Lake Murray Power Squadron's participation in this event.