Vessel Safety Checks
Lake Murray conducts Vessel Safety Checks to help insure boaters are better prepared for the boating season. Check out this Vessel Safety Check video featuring P/C Lee Ayers, SN.
Inspection dates, times and locations have been affected by COVID-19 restrictions. Please check back for details.
If you need your boat inspected before the next scheduled date is announced, please e-mail Lt Debbie Becht to arrange a time and location for one of our inspectors to check your boat. You also can visit http://safetyseal.net/GetVSC/ and enter your zip code to find contact information for the nearest inspector from whom you can request a vessel safety check.
A successful inspection will earn you the privilege of displaying the 2021 Vessel Safety Check inspection sticker, which is displayed here.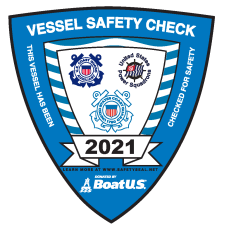 Members of Lake Murray Power Squadron participate as certified inspectors in the nationwide Vessel Safety Check Program, offered by the United States Power Squadrons and the U.S. Coast Guard Auxiliary.
This effective, proactive and preventative safety program is unique to the recreational boating community. It insures that key marine safety equipment is present, is within prescribed functional limits, and is compliant with federal, state, and local regulations.
The Vessel Safety Check Program provides the certified inspectors an opportunity to discuss with the recreational boater, the purpose of the marine safety equipment, to clarify various federal, state, and local regulations, to emphasize specific safety procedures and practices, to answer any boating related questions and to encourage additional boater education. To view a pre-departure checklist of minimum federal required equipment, recommended equipment, safety checks and tests, visit the Coast Guard's Boating Safety webpage: Virtual Vessel Safety Check.